Check out the July edition of our Monthly Newsletter!
Insider Tips for Healthy, Wealthy and Happy Living – 
Charles & Noeleen Duffy's

…

Service For Life! ®
Inside This Issue…
Can A Sugar Detox Prevent A Heart Attack?…
Slow Internet? Speed It Up With 4 Quick & Easy Tips…
Fun Facts and Laughs:

Free Internet Radio Websites, Sleep Positions To Feel Better, And More…

Trivia Challenge:

Win Two Free Movie Tickets

Real Estate Q&A:

What Factors Affect The Value Of My Home When I Sell It?…
| | |
| --- | --- |
| |  Charles & Noeleen DuffyCladdagh Florida PropertiesPhone: 386-246-7287Email: Charles@CallChas.com |
Dear Friends…If you want to feel better and reduce the risk of heart problems, you might consider cleansing your body of sugar. In this month's Service For Life!® Free consumer newsletter we will share exactly how to do a cleanse based on a highly rated book written by two doctors called "The Sugar Detox."You'll also learn four quick ways to speed up your Internet, how important your sleep position is if you're a snorer or have heartburn, and the names of three free Internet radio websites – plus fun facts, a trivia challenge, and lots more.

 Charles & Noeleen Duffy

Charles & Noeleen Duffy,

Broker Owner's ®

Claddagh Florida Properties

P.S.  When you notice people talking about real estate in the next few weeks, can you tell them about the free consumer information I provide?

They may be people you meet who were relocated and are looking to buy a home this summer. Tell them about our Free Consumer Report: "8 Secrets For Saving Thousands When Finding, Buying and Financing Your Next Home" and give them our phone number

386-246-7287. Or, you can always request a copy for a friend by clicking here to email us.
Today's Brain Teaser . . .
Four fingers and a thumb, yet flesh and blood I have none.
What am I?
(see answer below)
Can A "Sugar Detox"Prevent A Heart Attack?
One of the greatest threats to your health is sugar. According to the World Health Organization, an arm of the United Nations, the average adult should have no more than 6 teaspoons of sugar a day. That's about 25 grams of sugar, or what's in a typical can of soda. But the latest surveys show the average person eats about 18 teaspoons (75 grams) of sugar every day.
Even if you stay away from sweets like cookies, cakes, and doughnuts, there are "hidden" sugars in processed food that you'd never know. For example, sugar is often added to frozen pizza, soup, and even mayonnaise.
The concern is more than just preventing weight gain. A Harvard Nurses' Health Study found that people who eat more than the recommended amount of sugar nearly doubled their risk of heart disease. They also tend to look older because sugar triggers body chemicals that accelerate aging of your skin.
If you want to reduce the risk of heart problems, lose weight, feel better, and even look younger, here is some shocking news: You need to go off sugar completely. Not forever, just a temporary "detox" to cleanse your body so it doesn't have cravings that make you eat more sugar. That's the advice from two doctors who wrote the highly rated book "The Sugar Detox" that has a two-part plan…
STEP #1: Go off sugar completely – for 3 days
The first goal is to reset your body's ability to even taste natural sugars that are in foods like apples. Consult your doctor before changing your diet, especially if you have hypoglycemia or diabetes. But if you don't have a blood sugar problem, cut out the following for three whole days: foods or drinks with added sugar (read the label on everything)… starches (pasta, bread, crackers, cereal, potatoes, and rice)… fruit (except a lemon or lime to flavor water or cooking)… dairy (milk, cream, yogurt, and cheese)… and also cut out artificial sweeteners and alcohol.
Here's what you should eat: protein (lean red meat, chicken, fish, tofu, and eggs)… vegetables (such as broccoli, lettuce, asparagus but not starchy veggies like corn, beets, or squash)… nuts (peanuts, walnuts, almonds, and cashews)… and lots of water. During this time you may feel tired and might even get a headache as sugar exits your body kicking and screaming.
STEP #2: Reintroduce certain foods into your diet – over 4 weeks
Week 1: Continue to eat healthy foods and not anything with added sugar, but also eat up to an apple a day… up to one serving of dairy per day (8 oz milk, 1 oz cheese, 5 oz plain yogurt, or 1/2 cup cottage cheese)… one serving of whole grain crackers per day… and you can also drink wine if you like.
Week 2: Add back more natural sugars by increasing fruit and dairy in your diet. In addition to an apple each day, have a half cup of berries, and two servings of dairy each day. You'll start to notice how sweet fruit is, and you can also add a small sweet potato each day.
Weeks 3 and 4: Start eating grains again, but make sure they're "whole grains" and not carbohydrates like white pasta, white bread, and white rice that have fiber stripped off and are easily converted to sugar by your body.
You should now have more energy and feel better too! And if you still have a sweet tooth, the book says 1 oz of dark chocolate daily is fine.
Flagler County News
The good news is that there has been a major decline this year in the number of distressed properties for sale in Palm Coast and Flagler Beach. During the recession Flagler County had one of the highest numbers of Short Sales , Foreclosures and Bank Owned properties in the State of Florida. The large amount of distressed properties for sale lead to major price drops for property owners in all price ranges. This much needed sharp decline in distressed properties has allowed sellers reap a higer price for their homes in 2014 as  distressed properties no longer represent a major threat to listing/selling prices.
The Palm Coast & Flagler Beach real estate market is now in a much healthier state in 2014 and hopefully we can all look forward to it growing stronger.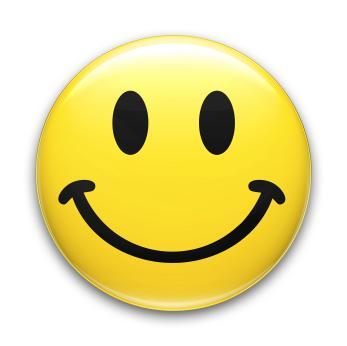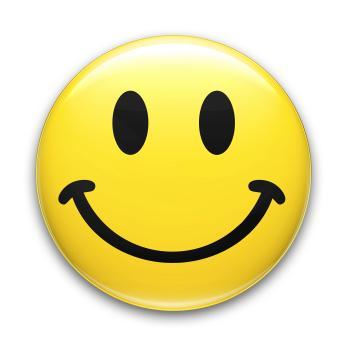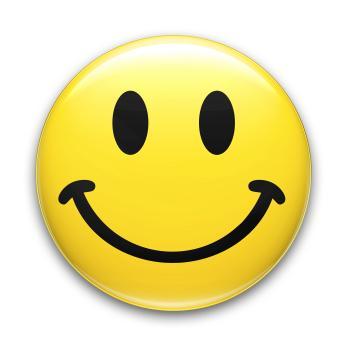 Happy Seller             Happy Buyer            Happy Realtor
4 Quick & Easy Ways ToSpeed Up Your Internet
Your Internet speed can vary depending on service providers and types of connection you have, but if your downloads and searches are slow, try these easy tips to improve your connection speed:
Update your Internet browser. Your current browser can be so obsolete it may slow your connection. Update your browser version or try one that's faster such as Mozilla Firefox at www.firefox.com, or Google Chrome at: www.google.com/chrome.
Clear your Internet browser history. Too much data in your history can slow things down. On most browsers, look under Tools and "Clear Recent History."
Optimize your cache. Your cache (pronounced cash) stores temporary files on your system. These are files like images and videos that make a webpage load faster. But too many of these files can slow your entire Internet performance. Limit your cache to 512 MB or 2% of your total network hard disk size, whichever is smaller. Once your cache is at the limit, it will start to eliminate old files, freeing up your network resources. You can also clear your cache at any time. Each browser has different steps, so search for "clear cache Firefox" or "clear cache Chrome."
Check your connection speed. If your computer is still slow, perform a free check of the Internet speed at www.speedtest.net. Then compare the result to the speed listed on your Internet plan. If the speed is slower than what you're paying for, call your Internet service provider to have them check your connection. They may suggest replacing your modem or wireless router to boost the speed.
A warm welcome to Palm Coast's newest property owners, John & Jill Bangert. John & Jill purchased a lot to build their dream home on. Congratulations to John & Jill.

Lot prices in Palm Coast are creeping up so now is the good time to buy or sell.  Call us at 386.246.7287 for a free consultation.
Fun Facts and Laughs
Free Internet Radio Websites . . .
• www.pandora.com – Listen to the music you love. Type in a song or artist and it creates a "station" just for you.
• www.spotify.com – Select from thousands of songs and play them on demand. It connects to Facebook so your friends can see what you're listening to.
• www.iheart.com – Access more than 1,500 live radio stations from every genre. Download their app for Apple and Android devices.
Sleep Positions To Feel Better . . .
If you're a snorer, sleep on one side or the other. If you sleep flat on your back, your throat narrows, causing those dreadful noises. Good to know if you have a condition called sleep apnea.
If you have heartburn, sleep on your left side. This makes it harder for stomach acid to leak into your esophagus. Also, consider raising the upper part of your body by using a wedge pillow or putting blocks under the head of your bed.
Great Organizing Tool . . .
Need to organize volunteers for an event or project? Check out www.signupgenius.com. It confirms who is available and sends reminders.
     The Claddagh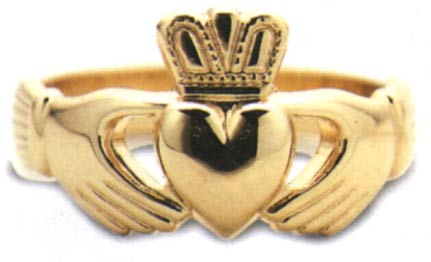 Love
Loyalty & Friendship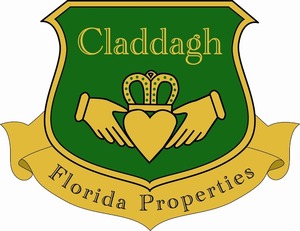 Forward this to a friend
Would You Like To Know How Much YourNeighbor's Home Listed Or Sold For?
Maybe you're just curious. Or maybe you want to know how much your home is worth. Either way, We can help…with no "sales pitches" or run-arounds. Call us at 386-246-7287 or email us by clicking here and we will give you all the facts.
Trivia Challenge for the Month…

"Who Else Wants To Win Two Free Movie Tickets?"

Guess who won last month's Trivia Question? We are pleased to announce the lucky winner of last month's quiz. And the winner is…drum roll please: Margaret Mahoney Haverhill, MA was the first person to correctly answer our quiz question.

Model and television personality Tyra Banks is allergic to which of the following:

a) Chocolate   b) Dogs   c) Cats   d) All of these

The answer is b) Dogs. So, let's move on to this month's trivia question.

What is the longest running animated series on U.S. television?

a) The Flintstonesb) South Parkc) The Simpsonsd) Scooby-Doo

EMAIL US BY: Clicking Here OR Call Us At 386-246-7287 And You Could Be Our Next Winner!
Brain Teaser Answer:
A glove
Thanks For Thinking of US!
Did you know we can help you or any of your friends or family save time and money when buying or selling a home? Thanks for keeping us in mind with your referrals…and spreading the word about our services.
Real Estate Q & A . . .
Q.  What factors affect the value of my home when I sell it?
A.
 If you're thinking about putting your home on the market, here are some of the most important factors affecting its value:
Comparable homes in the area that sold in the past 30-90 days. If some of the recent sales were short sales or foreclosures, it may affect the value of your home. Also, the more homes currently available for sale, the lower the value your home may have.
Your location. Access to highways or public transportation, the quality of your school district, and too few (or too many) commercial or residential developments can have an effect on a home's value.
Major home systems. If your water heater, electrical, or heating and air-conditioning systems aren't working properly it can have a significant affect on the price a buyer pays for your home.
Do you have a real estate question you want answered? Feel free to call us 386-246-7287 or email us by clicking here. Perhaps we will feature it in our next issue!
Our sincere condolences go out tp Patsey Driskell, GA whose husband Craig recently passed away. Craig, was laid to rest on July 8th. in a  military Funeral in Andersonville National Cemetary, GA. Patsey & Craig recently sold their home in Flagler Beach.
THANK YOU… for reading our Service For Life!® personal newsletter.  We wanted to produce a newsletter that has great content and is fun and valuable to you.  Help your friends get more out of life by forwarding this email to them…
---